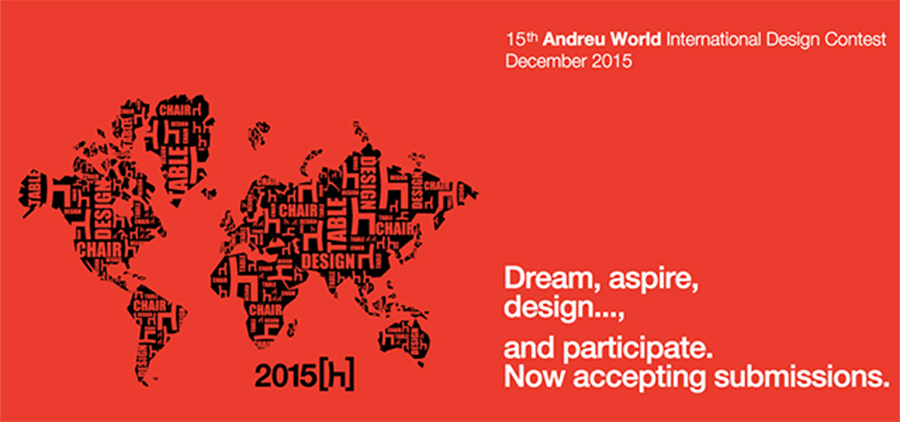 Andreu World is a company on a global trajectory, it is recognized as an international leader in furniture design and for its state-of-the-art manufacturing facilities and practices. Andreu World works to create sustainable and innovative designs, providing durable furniture solutions that allow to enjoy the spaces that people utilize in a smart and healthy way.
The competition is open both to design students and to professionals, without age limit. In order to participate, contestants must design an item of furniture (seat or table) that integrates all the specifications outlined by Andreu World, S.A. and which resolves the accompanying technical and formal challenges in the terms indicated.
Conditions:
– Seating: The main material used shall be Beech wood, Oak wood or Walnut. Chairs may be upholstered to a greater or lesser extent, if considered appropriate and veneered board or plywood.
– Tables: The main material used shall be Beech wood, Oak wood or Walnut. Tables may be veneered board or plywood.
– The use of other materials such as metals, plastics, glass, etc. is allowed when complementary, structural or incidental to the above.
– All designs presented shall be new, not having been marketed or disclosed prior to the date of the Contest.
Specifications:
– Possible innovative features related to design, quality, technology, production processes, etc. and in general anything that adds value to the presented project.
– Possible adaptation to the product philosophy of Andreu World, S.A.
– Production costs and/or recovery.
– Functionality: fulfillment of the functions for which it has been designed.
– All-round simple and viable mass production possibilities.
– Possible versatility and suitability for development in occasional pieces such as stools, easy chairs, sofas, etc. in the case of chairs, and of different sizes and heights in the case of tables.
– Suitability to numerous ambiences and uses such as the home, contract work, etc.
Prizes:
– 1st prize of 3000 euros (4,000 US$)
– 2nd prize of 1000 euros (1,500 US$)
The jury will also award up to a maximum of 4, non-monetary, special mentions.
Application deadline:
All documentation must sent to by post or messenger service, or by delivering the project by hand to our offices, before 30th November 2015.
More information:
Briefing
Legal Rules
Andreu World